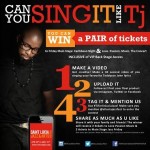 The Saint Lucia Tourist Board has marked the opening of the Jazz & Arts Festival season by unveiling a sweepstakes featuring local Groovy Soca superstar Teddyson John. The competition, powered via the Festival's social media pages, asks participants to "Sing It Like Teddyson," by uploading 30 second videos of themselves performing their favorite song from John's repertoire over the years.
The winning entrant will receive a pair of tickets to the Festival's Caribbean night Featuring John, Alison Hinds and Alternative Quartet as well as a pair of VIP all access tickets to John's signature concert, "Love.Passion.Music." hosted during Saint Lucia's Carnival Season, and the opportunity to meet the crooner.
 "Every time we showcase quality local talent, we're putting it out there that our homegrown talent deserves the mainstage position and can be on par with international performers. We see it as endorsing ourselves as a viable product alongside the international acts – and that's huge for the destination and for the creative sector." says Tracey Warner-Arnold, Deputy Director of Tourism.
To participate in the "Sing It Like Teddyson" sweepstakes, participants must 'like' the Saint Lucia Jazz & Arts Festival on Facebook or follow the Festival on Twitter and submit a 30 second video performing their favorite Teddyson John tune. There is no limit to submissions.
 Follow the Saint Lucia Jazz & Arts Festival on Twitter and Instagram, like their page onFacebook and download the festival app: http://bit.ly/1eJpjjh