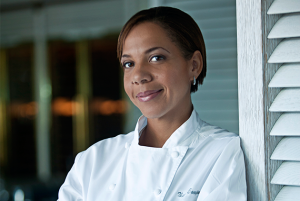 SAINT LUCIA (June 18, 2014) Chef Nina Compton, first runner-up and fan favorite in the most recent "Top Chef New Orleans" series, plans to put Saint Lucia on the culinary map. Recently appointed as the first Culinary Ambassador of Saint Lucia, Compton hopes to inspire legions of foodies and visitors to the island with promises of indigenous ingredients and forward thinking food producers.
The now-famous chef grew up in an epicurean's paradise; the island possesses an endless supply of fresh fruits and vegetables, a variety of ethnic influences, and access to some of the world's best seafood. "Chefs in Saint Lucia are doing amazing things with native foods," says Chef Compton. "I love stumbling upon customary dishes that feature new flavors and locally grown ingredients. It's a melding of tradition and exploration."

Saint Lucia's restaurants run the gamut; from fine-dining to homey and casual, menus across the island capture the local flavor. "Chef Bobo Bergström has introduced fusion dishes at The Edge that combine imported flavors with ingredients that were foraged on-island," says Compton. "While Feddo's in Soufriere offers a to-the-point menu, featuring classic blackened fish in garlic butter served with fresh creole bread."
Compton, whose island roots run deep, is the daughter of former Saint Lucia Prime Minister Sir John Compton. A revered luminary, Sir Compton created and led the United Workers' Party in 1964, served three times as prime minister (1979, 1982–96, 2006–07), and negotiated the island's independence from Great Britain in 1979. Sir Compton began work toward an independent nation in 1974; once achieved, he became the country's first prime minister.
While serving as Saint Lucia's culinary ambassador, Chef Compton will be the focal point of a social media push by the Tourist Board, participate in a series of online chats later this summer, and take part in food demonstrations and media appearances. "Chef Nina brings to life the island's homegrown ingredients and rich agricultural heritage," explains Director of Tourism Louis Lewis. "This platform provides Saint Lucia with a unique opportunity to educate and engage new audiences."
Throughout August, Chef Compton will lead the charge in celebrating Saint Lucia's Chocolate Heritage Month, sharing chocolate-inspired recipes and highlighting the many ways to enjoy the beloved spice on-island. "Cacao has been cultivated on Saint Lucia for hundreds of years," explains Compton. "It is one of the island's most notable foods and it's extraordinarily versatile. Saint Lucians use the spice in everything from cocoa tea for breakfast, to a rub for fish and meats."
In honor of Chocolate Heritage Month, the Saint Lucia Tourist Board will launch an interactive chocolate heritage trail on stlucianow.com, chocolate-inspired lodging packages, and a Chef Nina Compton Pinterest Board featuring her favorite chocolate-infused recipes.
Compton recently served as Chef de Cuisine at Scarpetta, located at the famed Fontainebleau Miami Beach resort. A graduate of The Culinary Institute of America in Hyde Park, Compton began her culinary career at Daniel in New York City before moving on to Miami-based Palme d'Or and Casa Casuarina.
About Saint Lucia
One of the Windward Islands of the West Indies' Lesser Antilles, Saint Lucia (pronounced Saint LOO-sha) is nestled halfway down the Eastern Caribbean archipelago. The "Helen of the West Indies," Saint Lucia is known for its natural beauty and diverse attractions, including the signature Piton Mountains – a UNESCO World Heritage Site – a tropical rainforest and one of the world's few drive-in volcanoes. Culturally rich offerings include the bustling marketplace in the capital of Castries, quaint fishing villages along the coastline, and the annual Saint Lucia Jazz & Arts Festival. Saint Lucia's wide range of accommodations includes world-class five-star resorts, all-inclusive resorts, intimate inns and value-oriented properties. Saint Lucia also is home to world class cruise and yachting facilities. The island is continually recognized as one of the Leading Wedding and Honeymoon destinations worldwide.
For more information about the island of Saint Lucia, call 1-800-456-3984, or 1-888-4STLUCIA or visit http://stlucianow.com/.