SAINT LUCIAN CHOCOLATE TOP OF THE CROP IN 2015 ACADEMY OF CHOCOLATE AWARDS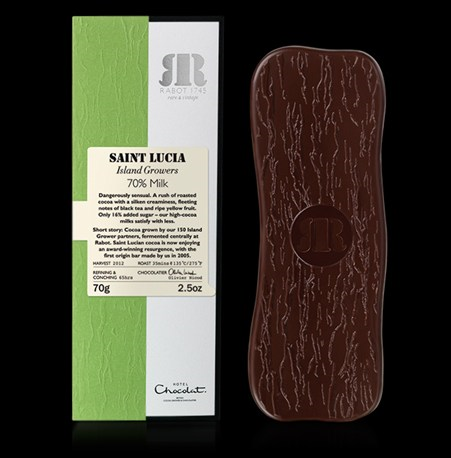 Luxury chocolate brand, Hotel Chocolat, has scooped the most awards at this prestigious world event, two of them for products made exclusively from Saint Lucian cocoa, grown at their own estate in Soufriere as well as from 160 cacao growers across the island.
The Awards, now taking place for the 7th time, are a highly anticipated event in the international chocolate calendar. This year a record number of entries was received with over 500 products from all over the world. Judging took an extensive five days and the tasting panel included globally recognised chocolate experts and buyers, pastry chefs, food professionals and food journalists.
Hotel Chocolat was awarded Silver in the "Bean to Bar under 80%" category for their Rabot Estate Single Cote, Bord du Lac 70% cocoa and Bronze in the "Best Flavoured Milk Bar" category for their Saint Lucian 65% Milk Earl Grey.
Hotel Chocolat was the first chocolatier to make single-origin Saint Lucian chocolate in 2007. Prior to this, all the local cocoa beans that made it to market were lost in mixed bulk sales and anonymous chocolate blends. Saint Lucia's once-prized variety of Trinitario cocoa was in danger of disappearing into the history of chocolate. If properly fermented, dried, roasted and conched, Saint Lucian beans can produce chocolate with a dazzling array of tasting notes, ranging from classically rich cocoa to black tea and ripe yellow fruit, grassy olive oil and dry red Burgundy.
Philip Buckley, Country Head, Saint Lucia comments:
"A key part of our plan is helping Island Growers to keep farming. By buying their harvests at a good price, we allow farmers to reinvest in their farms, and with technical support and access to higher quality cocoa, it's a win-win for everyone."
Today, more than 166 Island Grower partners have joined us, and we couldn't be prouder that, working with us, their beans now create some of the officially finest chocolate in the world and that our ethical model of cocoa growing has taken hold on the island.
These latest awards solidify Saint Lucia's global reputation as a top quality cocoa producer and profile the strong food culture of the island.
Hotel Chocolat stocks its Saint Lucia chocolate in 82 company owned shops across the UK and Scandinavia.
For press information, please contact Megan Roberts at Hotel Chocolat
Email: pr@hotelchocolat.com or call: 07545 400697
About Hotel Chocolat hotelchocolat.com
Luxury British cocoa grower and chocolatier, Hotel Chocolat, was founded in 2004 to make exciting chocolate with three guiding principles – authenticity, originality and ethics – which remain central to the brand's success today. With its Rabot Estate cocoa plantation in Saint Lucia, a chocolate manufacturing facility in Cambridgeshire and stores across the UK and internationally, Hotel Chocolat occupies a unique space – being able to link all aspects of chocolate from the tree to the consumer. They also have concessions in John Lewis stores nationwide and in David Jones, Australia. In 2011 Hotel Chocolat opened a boutique hotel in the grounds of Rabot Estate on Saint Lucia, which is also home to Boucan Restaurant and its pioneering menu of 'cacao cuisine'. In 2013 Hotel Chocolat opened two cocoa cuisine restaurants inspired by Boucan – Rabot 1745 in London's Borough Market and the Hotel Chocolat Flagship, Leeds. Both restaurants reconnect the world of cocoa growing with the luxury of eating it.
Recent awards include – Several wins at The Great Taste Awards and the Academy of Chocolate Awards; Cocoa Juvenate Best Body Moisturiser at the Cosmopolitan Beauty Awards 2013; number one spot in 'The Sunday Times Fast Track 100'; one of the UK's prestigious Cool Brands' for the fourth year running; named by Condé Nast Traveller Hot List 2012 as a top new hotel with "understated luxury with a hint of sex appeal and being named as the 'most advocated' British brand in the UK in research by Bain & Co 2011.
hotelchocolat.com/boucan